Welcome to the real world!

On May 8, 2014, the time had come. We have opened an independent platform, which will soon be 1 year old and wish you all a lot of fun together. We report on events and news from someone without being censored. We give YOU the opportunity to research on your own and publish posts. Here you can open up your own blog, write books and poems, and share with your friends across all your social networks. We talk and make us think about the current events in Europe and in the world. We get not show the mainstream media. We are working on a new system of co-existence which can design with DU. YOU can here but also about your hobbies report and share yourself with others. Everyone is welcome and we hope that we through an active participation continued good and many approaches have a NEW Europe. The revolution begins with you! Know the lies and manipulation of the mainstream press and inform you independent and especially SELF. Invite friends and share our page or posts. Join and myself will ACTIVE in education and independent information dissemination by DU active mitarbeitest and write down your opinion!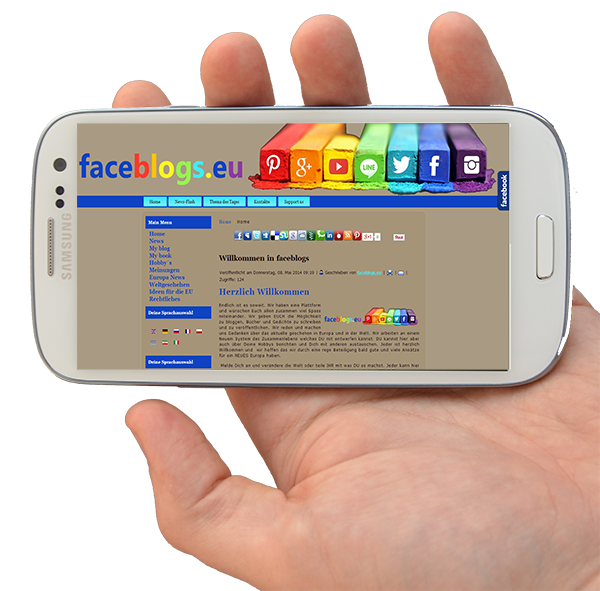 Please log in and change the world or share with her what YOU are doing so . Everyone can find their own category get something like a channel works and there its own blogs create . If you log in you can  adjust your language and in that language (there are all the other languages possible only to please the language setting when creating so pay attention to the text then there also appears) your blogs and posts to write. If you use images , music or videos to upload want there are corresponding folder. For music ( audio) and video ( videos) (these two folders must be taken in each case for music and videos since otherwise the player will find nothing ) . If you for your pictures a separate folder you want then seeking one with a number of the still free is we will then modify these in your name (we are then in your articles rename the paths so that the images can be seen again )
In order to continue and to be even better for you because we just tinker on an app and then we prepare all exchange a chat before and where can discuss the contributions . I hope together we will go the way of peace and find new rules for life in the European Community. Big fun!!

We work absolutely free and independent and financed by donations of our readers and users to reserve exclusively to this independence ..... so we would appreciate a donation of your choice very. No one has to fulfill a subscription or a compulsory membership, all are welcome ... www.faceblogs.eu


If you have also recognized that not everything in this world is as it seems, then help us educate others. We research and find out about different topics that are not common enough or even completely concealed or are misinformed. An action that is already running the second time our Wake Up Challenge. More information here .....
We want people to wake up and bring together ... help us take the first global peace run part. Does the event says it on your friends and family ..... The outbreak of the First World Peace on December 1, 2014! ...