Hundreds of thousands of peaceful demonstrators storm the square in front of the Reichstag !!!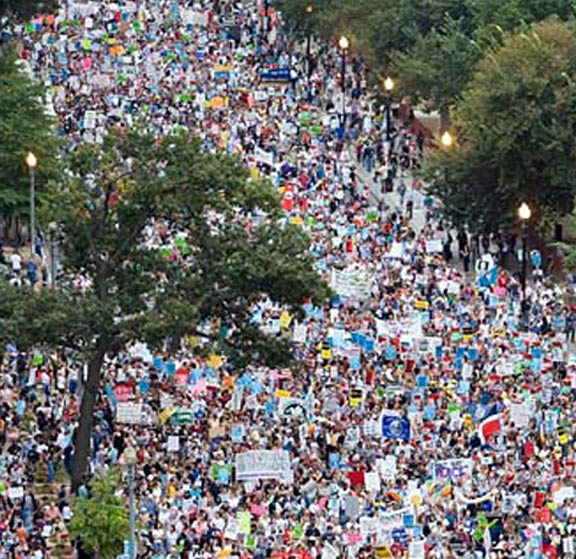 According to the latest reports from the Internet storm hundreds of thousands, peacefully, on October 3, 2014 in front of the Reichstag ......
to the government to immediately withdraw on demand to. They demand the immediate halt to all military operations in the world and withdrawal from NATO and the European Union. No participation of German soldiers in war and no further German arms sales. The crowds came from all over Germany and from all sides of the Reichstag went to but especially many came directly from ----- Unter den Linden 
--- Brandenburg Gate from the EAST BERLIN ..... !!!!
We expect to October 3 from far more protesters at the Reichstag and the Brandenburg Gate ..... 1-2 Millionen .... say NSA and BND advance and do not know how to stop the mass on the Internet. Germany wakes up to 7 days demonstrated peacefully and without violence for peace in the world! 
Here is the secret NSA DOCUMENTS for 7 days Demo: CLICK the button:
I'm finally a big action what you mean ... it is not to be violent but are nevertheless observed. What do you say 7 days demo any where he lives: 
1. 10. 2014 : ALL ONLY use cash and not go to the bank or use a debit machine or one of the banking 
2. 10. 2014: NOBODY is what NOT to buy not soak or not to buy supermarket other !!! 
3. 10. 2014: EVERYONE goes on the road 14-16 clock with peace signs, peace flag or white cloth whatever since, according to the peace and makes a video 
4. 10. 2014: NOBODY watches TV NOTHING best plug out 24 hours 
5. 10. 2014: NOBODY uses a cell phone BATTERY OUT and put away the day with friends and family to experience real !!! 24 hours all 
6.10. 2014: NOBODY visited or used Facebook, Twitter and Co 24 hours no photos, Commies or news All !!! LOG OUT 
7. 10. 2014: EVERYONE turns around 20:00 - 20 :15 clock power backup Shut down Germany and Europe !!!