Weapons found in supplies on a ship off the Greek coast !!!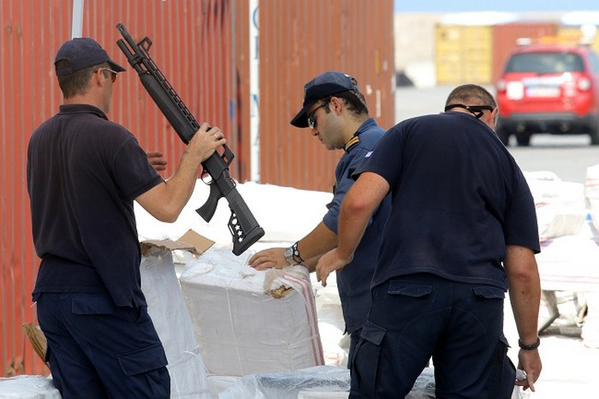 Heraklion, Crete. Freighter Haddad 1, Bolivian-registered vessel bound for Libya with aid for refugees was full of weapons and ammunition. Haddad 1, Bolivian-registered vessel with La Paz, the largest port in the Andes as homeport.
Greek Coast Guard Seizes Ship Smuggling Ammunition into EUROPE as "MUSLIM EXTREMIST" enter EU posing as Syrian REFUGEES.
The infamous Barbarous Islamists are smuggling weapons into Europe while they themselves are "Posing" as Syrian Refugees from the Civil War and entering EUROPE with the Floods of Migrants.
Haddad 1 is a Bolivian vessel registered with the home port of La Paz, the largest port in the Andes. The Greek Coast Guard seized a ship loaded with containers in the vicinity of the southern island of Crete. In carrying out the control were found next to relief supplies as well as ammunition and weapons, said the authorities of the Coast Guard. The shipping so is believed this was the delivery of the Islamic state, a group who stay in Libya determined, as local media reports. The authorities have not yet confirmed whether the supply to the Islamic state, also known as ISIS or IS known, was connected.
Libya has become a hotbed for ISIS-fighters in recent months. The country has experienced a new inspection by the IS after serious political unrest since the uprising in 2011, which overthrew the government and the long-term presidents Muammar Gaddafi. As we all know, it was NATO and Europe who have the "dictator Gaddafi" overthrown and put the country in ruins although the population several times in demonstrations protested his attachment to Gaddafi. Now Libya is split into two warring factions and Libya easy prey for ISIS.
The news comes after Europe and is being debated, but a solution to a growing refugee crisis is not brought about. More than 500,000 migrants, most of them fleeing from the war in Syria and have the borders of the European Union inundated in recent months. Only the primary problem is not eliminated for refugees is still trying to accommodate in European States, although one could solve the problem in their country like Syria or Libya with less financial cost and less human tragedies!