Warning to all for the May 10, 2014


Yesterday I already wrote an article , which you can view here again : NAZI march or peace demo?

My suspicion is , at least for me , increasingly it . During removal is more at stake on Saturday the 10th of May in Berlin at

Potsdamer Platz, as a demonstration. It has not shrunk in Odessa people to murder and then to pour accelerant to cover up the murder . I had also written about a post , facts, and pictures about fire in Odessa on May 2 . For who have not read the him kuz the info: Man burned bodies had been found in the union hall of Odessa, and it also burned but only during the first floors. There where some bodies had been found , there was virtually no fire features in the rooms and on the wall or ceiling but ONLY on the bodies , which just supports the inference that the killing , which should be covered up previously held , BY FIRE .

Now today I found this video, which is unfortunately a bit blurry , so can not tell you exactly who is actually the soldiers are running around there in the Ukraine with guns. BUT these soldiers fired indiscriminately at unarmed civilians , killing two and injuring several others. The comments in the video are : this is a demonstration of just ending and the word freedom ( свобода ) swaboda is often used . People running with their hands up and try to shoot the soldiers to bring stop. You to express yourself about the freedom they have and what such a freedom and call on the soldiers to go ... later they say the soldiers then shoot but he should shoot , shoot all whether ER shoot for the bread man and his compatriots would . Later, when there will be dead it is said to take that and show it to movies das. .. he shot him ..... That's now not literally but there is this sense in what is said there. ( Can unfortunately by the many confused clamor not really all verstehen.ACHTUNG WHO 'S look at IT IS NOT FOR THE FAINT HEARTED .
Have here is a second video found from the same place and time. Unarmed East Ukrainians are indiscriminately shot. BUT THAT'S ACHTUN SCHREKLICHER THAN THE FIRST VIDEO NOT FOR THE FAINT HEARTED ! !
I write therefore Wiel I also had another video for ca found 1 week as the New RIGHTS GOVERNMENT with THEIR followers made a demo in Ukraine. The video has been deleted , unfortunately , was too clear what 's going on , but just because I've seen this video, because they were all with torches and the same gear , some had guns and loud Ukraine healing healing nationalaty (ie in Russian) go I think that you (probably noticed with German bus company ) to Berlin departs at times just to stand up on the Potsdamer Platz times just a few short hours from the Ukraine. There is something else which is why the come in and there probably are some buses . Unfortunately I have no information how many . There were today on 9 May and yesterday on May 8, attacks on border crossings with Russia on the one was burnt down ... it provokes us where and how to do it so I am of the opinion that is also a huge challenge , here in Berlin on 10 May. 
.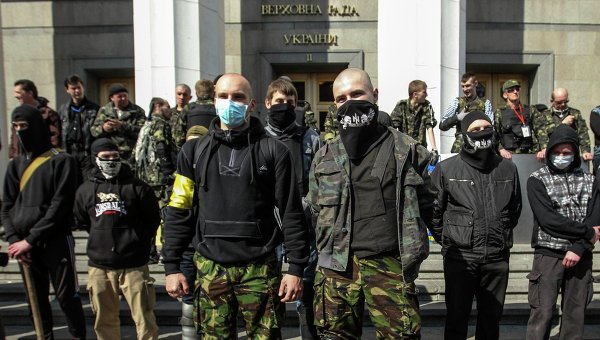 I do not know what will happen there and I hope my gut feeling agrees NOT evidence or so I do not have , because everything else I want ausmmalen me at all.

If someone today specially go to Potsdamer Platz on May 10 to demonstrate against ... LET YOU DO NOT provoke ... and take care .... it possibly can also be shot ......

I hope this is ONLY my GUT FEELING but it is provoked where and how it goes ... EVERYTHING IS POSSIBLE ! !

Feundschaft ! IN PEACE ! SEE YOU ON MONDAY TO vigil FOR PEACE ! !