U.S. out before decomposition, want 36 states
This post is intended to show that even in the United States have long been not everything is as it seems in external affairs in 2012 there was already a large wave of discontent!!
America November 2012: Little rosy outlook for Obama. Meanwhile, there are even 36 states from where now roll in signatures to the White House to "United States" withdraw from the association. If one follows the speed of events, it should probably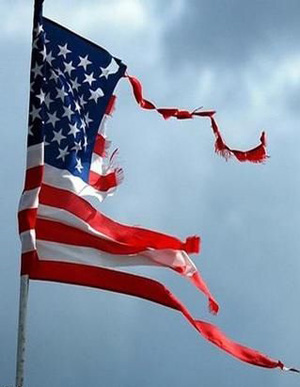 no later than next week such by all states suggestion reach the "central government" in Washington. At first you would be directly inclined so that the end just the United States is imminent, a sort Stars and Stripes in tatters, as shown at right. Experience shows that it is always different from us suggest the media. So what is going on with this independence tendencies of the U.S. states to?
Why is there this secession
Apparently this action is nurmehr a reaction after the presidential election, it is pushed causally the conservative camp in the shoes. Some commentators speak of pure frustration degradation, others from serious jokes. In nature and extent it is so, however, has not yet occurred. In particular, from Texas is railed that the federal government absolutely nothing gets on the chain, you will prefer to rely on their own strength and tell the composite Ade. Texas feels claims to be alone as the 15th largest economy in the world, as you might already whistling on residual USA. In part, federal legislation such as the NDAA (National Defense Authorization Act) are heavily criticized, with some justification, because it is always more nitty-gritty and civil rights. And so now spin every hour more and more signatures from almost all the states in Washington.
What do the petitions
Texas as well as Louisiana each have been the brand 25.000er skipped in the signatures, the other states collect more diligently. This brand among the signatures is so important because from this point, the federal government is held to officially respond, if these signatures are collected within 30 days. These two states can therefore look forward to a reply from Washington. Law, the States already collect the signatures (green) and the two that have already reached the "Qualli" (red).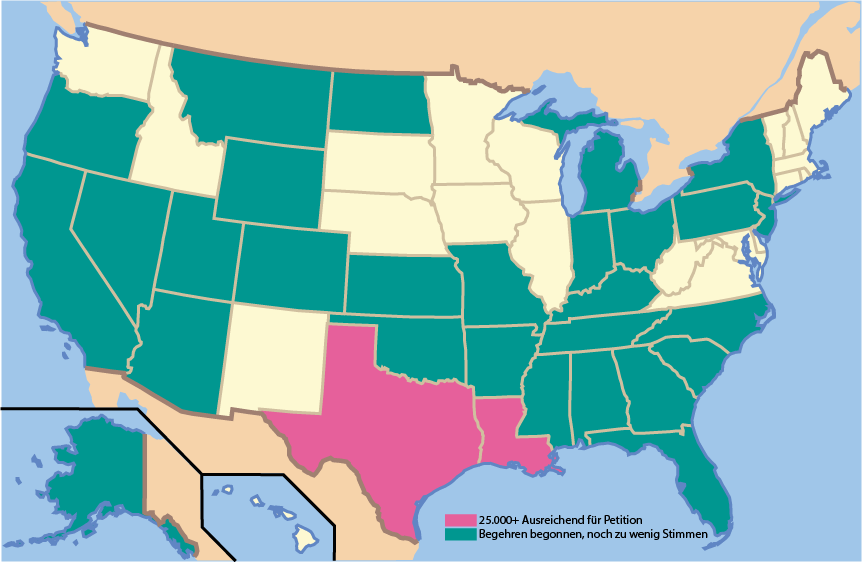 Intended goal is therefore each of the exit from the Confederation , which is not done naturally with 25,000 votes plus . Then a few warm words are addressed to the breakaway states from Washington and then the " Petitionisten " can pack again . With a military intervention in the rebellious states is not currently expected . Certainly , the already hollowed already in many parts of Constitution would further eliminate , it is working hard and it show up just not all Americans enthusiastic about it.
A total of seven U.S. states have the necessary number of at least 25,000 signatures reached one week after the presidential election on a petition to withdraw from the United States of America. But also from other 29 countries were received exit requests . Even if they want to part only of individual letters Wutbürger , yet shows a picture of a disunited America which will not be found probably the next four years.
The White House is actually held, but not obliged to respond to this. Embarrassing it would actually only when a state would set a referendum in this causa, but this is currently seriously expected for no stock. Instead, the voices are getting louder among the opponents of secession, the signature rescuer to withdraw the U.S. citizenship and to expel forthwith. Where, however, but no proposals have been made yet. Who also wants Americans to grant political asylum today?
Well that ends well ... certainly not
Show but this consortial attacks against the federal government that you are not very satisfied with their work. If this hint of discomfort passes away , will probably remain as expected, everything the same . Nevertheless, it ferments at the base. More and more people into poverty , fewer and fewer are immensely richer . One-third of Americans on the poverty line , one-sixth can only survive with food stamps . In sports jargon one might be inclined now from a hard " relegation " to talk.
In the end, all Americans need to agree on well again that you can not wring reasonable the rest of the world when their own country just falls apart . The emergency forges known to the masses back together. Whether the project can , however, forever outward , we have here simply times open and expect tense the drying up of this subject in the United States. But a refreshing thought it was , and perhaps an inspiration for Europe , not wanting with all his might by pressing the United States of Europe .
Here is a contribution fromSüddeutsche.de
Quellen: pravda TV, beforeitsnews,süddeutsche